Canyoning in Ribeira das Cales
Europe » Portugal » Madeira » Funchal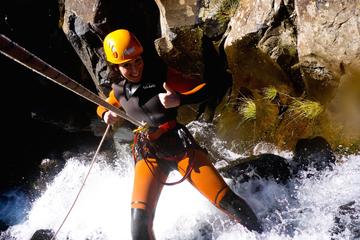 Duration: 2 hours
Departs: Funchal, Portugal
Price from USD 66.94
Book Now
Ribeira das Cales start in "Chão da Lagoa" in the Ecological Park of Funchal at approximately 1500 meters high. Along the route we found 2 rappels. To overcome the obstacles of the nature we need to do rappel, swim and jump in order to advance. This experience is the best for all people who want to try this amazing sport for the first time.
Canyoning is an exhilarating sport that takes place in a mountainous watercourse and to overcome the obstacles of nature we have to swim, jump and do rappels in small waterfalls. This is an activity that guarantees strong emotions and unforgettable moments close to nature, where you will discover what few people know.

To do Canyoning you need to bring a towel, bathing suit, sport shoes that you don't mind getting wet (sport shoes like running or mountain boots, never sandals or diving shoes) and change of clothes.
« All Activities