Dolphin Spotting and Whale Watching from Funchal
Europe » Portugal » Madeira » Funchal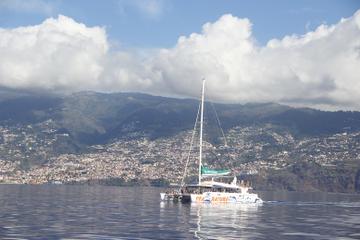 (4.5)
Duration: 3 hours
Departs: Funchal, Portugal
Price from USD 39.05
Book Now
Embark on comfortable catamarans for a relaxing trip along Madeira's south coast. Get the chance to spot dolphins and whales and, occasionally, even turtles! If the winds are favorable you will travel under sail for an unforgettable experience! During the summer months stop for a swim in the crystal clear waters below Cabo Girão.
Experience a 3-hour trip on a catamaran along the South coast of Madeira. Depart from Funchal and quickly get to each whale and dolphin sighting, where you will observe the animals in all their natural habitat. If the winds are favorable, prepare to hoist the sails for a unique and relaxing sensation. During the summer months there is a possibility for a stop for swimming below the cliffs of 'Cabo Girão,' one of the highest sea cliffs in the world at 580m in altitude.

During the trip, our qualified crew will give you detailed information in various languages about the species of cetaceans you are seeing, as well as other technical and historic information to ensure a complete and unique experience.
« All Activities